I just finished building a DIY Projector. I used a 3M 1680 overhead projector, a CTX PV700 17" TFT display, some wood and 6x 6mm 12Vdc fans. The outcome was quite a surprise! Good refresh rate, BIIIIIIIG screen but not as bright I was hoping. Alas, I was very pleased from the performance of a ~100 Euros projector!!




(click on thumbnails for larger images)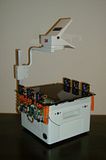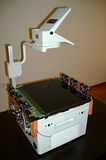 Read more to see more pictures of the process...
Read more to see more outcome pictures...