I finished building a project i had long time in mind.
It is called
A-SIM
and it is a serial-interface peripheral which reads
airspeed
and
sideslip
values from the game through
X-SIM
and simulates what the air would feel like in an open cockpit. To create the airflow, it uses computer fans. In my case, it outputs around 4.25 m3/minute (~150 QFM), which is quite a lot. I have used it for IL2 open-cockpit airplanes, but it can be used for racing simulators too.
It is based on the PIC16F887, powered by 12Vdc,
drives up to 4 PC fans(!)
and its total cost is below 20 EUROS.
With 4 PC fans one could get around 10 m3/min, you would need goggles to face the screen!
(Schematic and .HEX file published)
Here are some limited pictures because i am having problems with my digital camera...
(Click on the thumbnails to see full size photos)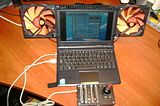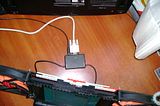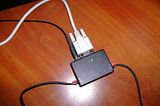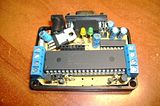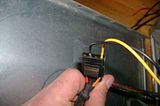 i used my PC's power supply to power A-sim, through the 12V line (yellow-black)
Here are the settings which were used in X-SIM:
~a01~
: I.A.S.
IAS_settings.jpg
,
IAS_math.jpg
~a02~
: L_Slip
L_Slip_settings.jpg
,
L_slip_math.jpg
~a03~
: R_Slip
R_Slip_settings.jpg
,
R_slip_math.jpg
USO Settings for X-SIM
The code and the schematic can be found here:
A-SIM.zip
I will upload some videos soon.
Hope you find it helpful..